Southern Kings County
Hi, welcome to the Prince Edward Island virtual tour of Southern King's County. We'll be starting our tour in Wood Islands, P.E.I. where the ferry arrives from Nova Scotia and we'll follow the King's Byway around southern Queens and Kings County. This is a beautiful and relatively undiscovered part of the Island where you can get away and enjoy secluded beaches and great scenery without the usual crush of traffic. You can follow along on a road map of the Island.
To help you follow along, we've included the distance from the ferry terminal, not including any side trips you may wish to make. The ferry terminal is Km 0. and our final stop on this portion of the tour is at Georgetown, 93 Kms away.
The map below shows where we will be starting and ending this leg of the tour.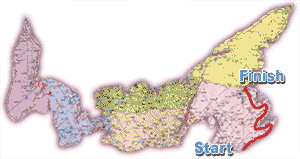 Our thanks to the P.E.I. Museum and Heritage Foundation for permission to use excerpts from the book "Geographical Names of Prince Edward Island".
Enjoy the tour.