Charlotte's Shore
Hi, welcome to the Prince Edward Island virtual tour of Charlotte's Shore, the coastline between Charlottetown and Summerside. We'll be starting this tour in Charlottetown and we'll follow the Blue Heron Drive around southern Queens and Prince counties. Take your time and enjoy the beautiful vistas which will unfold as you travel. You can follow along on a road map of the Island.
To help you follow along, we've included the distance from the highway intersection at University and Belvedere avenues which is the traffic lights beside the University of P.E.I. The university is Km 0 and our final stop on this portion of the tour is at the Summerside junction, 101 Kms (63 miles) away.
The map below shows where we will be starting and ending this leg of the tour.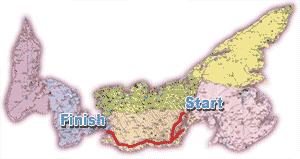 Our thanks to the P.E.I. Museum and Heritage Foundation for permission to use excerpts from the book "Geographical Names of Prince Edward Island".
Enjoy the tour.