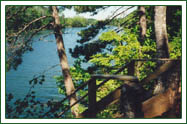 The Trout River Cottage is located on a private 1 acre piece of land bordering on an estuary of New London Bay known as the Trout River. The cottage is modern, cozy and private and is located about 100 yards from a Park created by the residents of the district. This Community park has a childrens playground and a groomed section of trail that extends several hundred yards up the estuary to a country bridge. This is a popular spot for people to come and fish.
The cottage is only minutes away from 8 golf courses including Eagles Glen, Glasgow Hills and Andersons Creek. Cavendish, a popular tourist destination, is only 10 minutes away.
There you will find the beautiful beaches of the north shore along with many attractions and shopping outlets. A quiet holiday getaway, yet close to all the things that will make your vacation special. The cottage is unique and it will be just right for you and your family.