Eastern Kings County
Hi, welcome to the Prince Edward Island virtual tour of Eastern Kings County. We'll be starting this tour in Cardigan, P.E.I. and we'll follow the King's Byway around Kings County. Take your time and enjoy the beautiful vistas which will unfold as you travel. You can follow along on a road map of the Island.
Eastern P.E.I. is also represented by the Island East Tourism Group. They too would like to welcome you to their end of the Island.
To help you follow along, we've included the distance from Cardigan, not including any side trips you may wish to make. We will make a note of the major intersections on the tour. Cardigan is Km 0 and our final stop on this portion of the tour is at Brackley, 207 Kms (129 miles) away. All distances are in kilometres and miles.
The map below shows where we will be starting and ending this leg of the tour.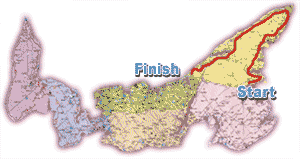 Our thanks to the P.E.I. Museum and Heritage Foundation for permission to use excerpts from the book "Geographical Names of Prince Edward Island".
Enjoy the tour.