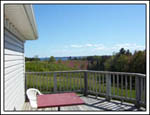 In the days of yor, country inns provided travellers with food, and lodging in a friendly, hospitable setting.

That is what you will find at the Rollo Bay Inn...old-fashioned hospitality in a modern setting! The interior decor and furnishing are of the rich Queen Anne style, so as to create an atmosphere of the inns of bygone times.
We are pleased to provide the largest convention facility in Eastern Kings. With a capacity of 150 seats and a complete banquet service, we can accomodate meetings, conventions banquets and receptions of any sort.