Testimonials
The Nightingales
"Your hospitality & friendship will be the standard by which we compare the rest of our vacations. Thanks for a tremendous week."
Cukier Family
"Your hospitality and concern for your guests comfort far exceeds the norm. Your never ending kindness and thoughts for others should be the role model for all individuals. We have enjoyed ourselves very much and thank you for everything. "
Paul, Bobbi, Alex, Allison, Jeon
"Thanks for the love, laughter & happiness that we were able to share this week. Your nurturing environment is priceless."
Roxanne Derek Samantha & Laura House
"Thank you for all of your wonderful hospitality. We had a fantastic holiday and our stay at Shady Acres was superb. You are both excellent hosts and go out of your way to create a pleasant environment. Thank you once again, we will be back!"
Home
|
Rates
|
Contact Us
Copyright 2005 Shady Acres Cottages. All rights reserved.
Site by Oakwood Enterprises Inc.
Fall Events
We offer a variety of special fall packages.
Click here to find out more.

Locate Us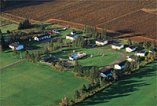 Wondering where to find us? Click here for a detailed map & directions.