Recreation

We are situated on 68 acres of beautifully groomed grounds with a well appointed recreation area with activities for all ages.

It includes a safe, spacious playground, which is visible from any of the ten cottages as well as a heated in-ground pool.Other available activities include tennis, basketball, badminton, volleyball, and horse shoes.

All of this and more await our wonderful families at Shady Acres.
Home
|
Rates
|
Contact Us
Copyright 2005 Shady Acres Cottages. All rights reserved.
Site by Oakwood Enterprises Inc.
Fall Events
We offer a variety of special fall packages.
Click here to find out more.

Locate Us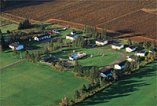 Wondering where to find us? Click here for a detailed map & directions.