Office Features

Our office provides a lending library of books, toys, family and board games, sport and recreational equipment. These are to be signed in and out and returned in good condition. We also provide access to Internet and complimentary fax access for clients who must combine business and pleasure.

The office also includes laundry facilities and a small exercise/fitness room.
Home
|
Rates
|
Contact Us
Copyright 2005 Shady Acres Cottages. All rights reserved.
Site by Oakwood Enterprises Inc.
Fall Events
We offer a variety of special fall packages.
Click here to find out more.

Locate Us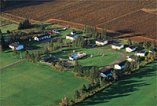 Wondering where to find us? Click here for a detailed map & directions.