Our Location

We are located in the heart of Brackley Beach in Prince Edward Island, Canada. Our central location is just 12 km north of the Charlottetown Airport and less than an hour's drive from both the Confederation Bridge and the Wood Islands Ferry.



Please click on the links below to view a detailed map and driving directions:



Home
|
Rates
|
Contact Us
Copyright 2005 Shady Acres Cottages. All rights reserved.
Site by Oakwood Enterprises Inc.
Fall Events
We offer a variety of special fall packages.
Click here to find out more.

Locate Us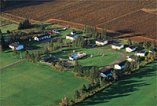 Wondering where to find us? Click here for a detailed map & directions.